Watch Thursday Night Football @ Grails
Enjoy specials on Thursday Night Football from 7pm - Close
View Menu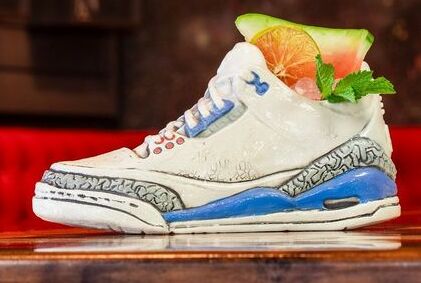 During Thursday Night Football, you can purchase your own Grails "Sneaker" cocktail vessel for only $30 (half price!). You'll also receive 2 FREE "Satisfy Your Sole" cocktails served in it.
Thursday Night Football Specials
From 7pm till close.
View Full Menu
Grails Signature Cocktails - $10
· One-of-a-kind cocktails and flavors you can only get at Grails.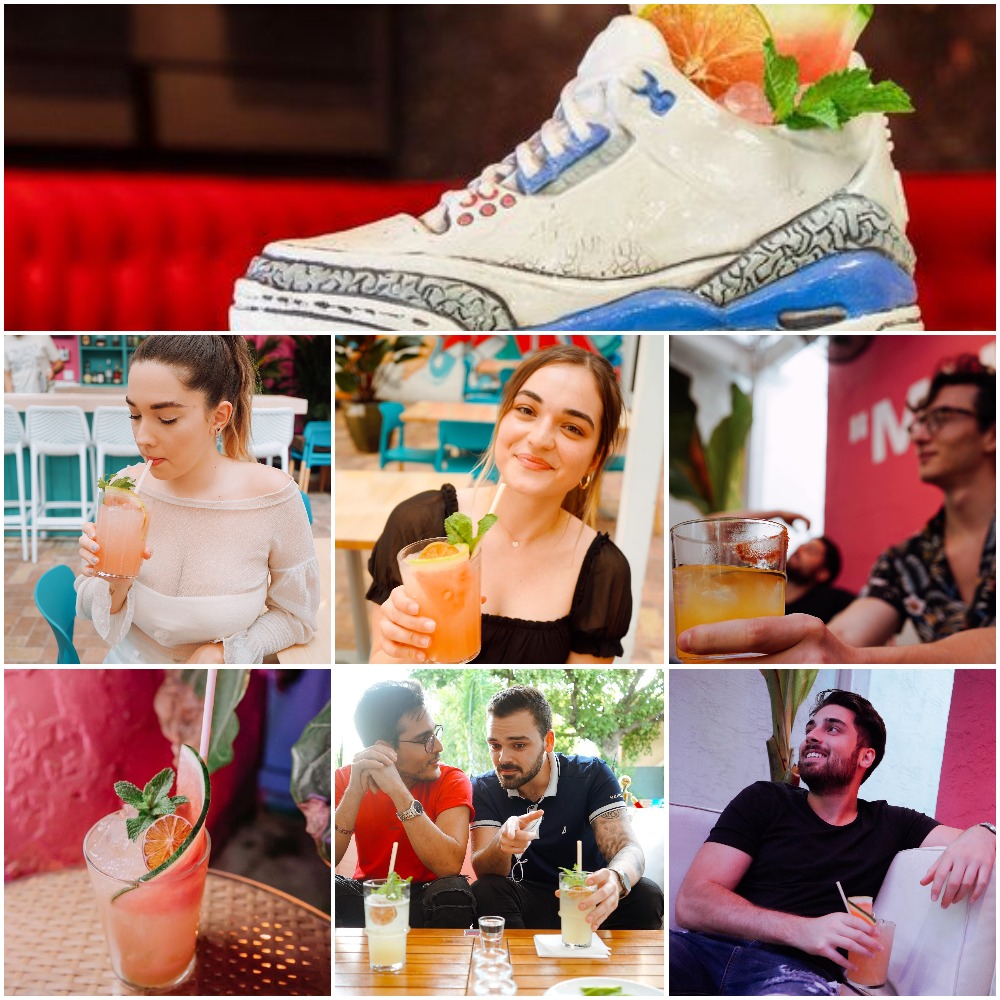 Enjoy Grails' unique signature cocktails while watching the game.
Cocktail Menu:
Satisfy your Sole
Ketel One Vodka | Lime | Watermelon | Lemon Verbena | Ginger
Staple Pigeon
Corazon Tequila | Citrus Blend | Pineapple | Cilantro | Passion Fruit | Savory Salt
Chai-Kwando
Chai Infused Corazon Tequila | Hibiscus | Coconut | Lime | Spiced Salt
'88 Old Fashioned
Four Roses Bourbon | Ginger | Vanilla | Angostura & Mole Bitters | Orange Oils
The Weatherman
Havana Club Afiejo | Lime | Spiced Vanilla Cordial | Vanilla Bitters | Nutmeg | DRY Vanilla Soda 13
Big in Japan
Toki Japanese Whisky | Lemon | Green Tea | Lemongrass | Cucumber Soda
Peach-Co Sour*
Barsol Pisco | Grai't | Lemon | Peach | Lavender | Egg White | Angostura Bitters
Notorious
Proper 12 Irish Whiskey | Lemon | Ancho Reyes | Cinnamon | Hot Pepper | Chocolate
Frozen Passion Fruit Aperol Spritz
Aperol | Citrus Blend | Sauvignon Blanc | Passion Fruit | Prosecco
Pina Colada
Don Q Blanco Rum | Plantation Original Dark Rum | PX Sherry | Coconut Cream | Cold Pressed Pineapple | Angostura Bitters
Espresso Martini
Haig Club | Cold Brew | Vanilla | Cacao | Mole Bitters | Lemon Oils
Cucumber Spritz
Ketel One Cucumber & Mint | Lillet Blanc | Elderflower | Lemon Twist | Cucumber Slice
Peach & Orange Blossom Spritz
Kettle One Peach & Orange Blossom | Madarin | Lemon | Ginger | Lavender
Grapefruit & Rose Aperol Sprizt
Kettle One Grapefruit | Aperol | Yuzu | Prosecco | Grapefruit Slice
Beer & Wine Specials
· Specials for red and whites, craft beers, and craft beer pitchers.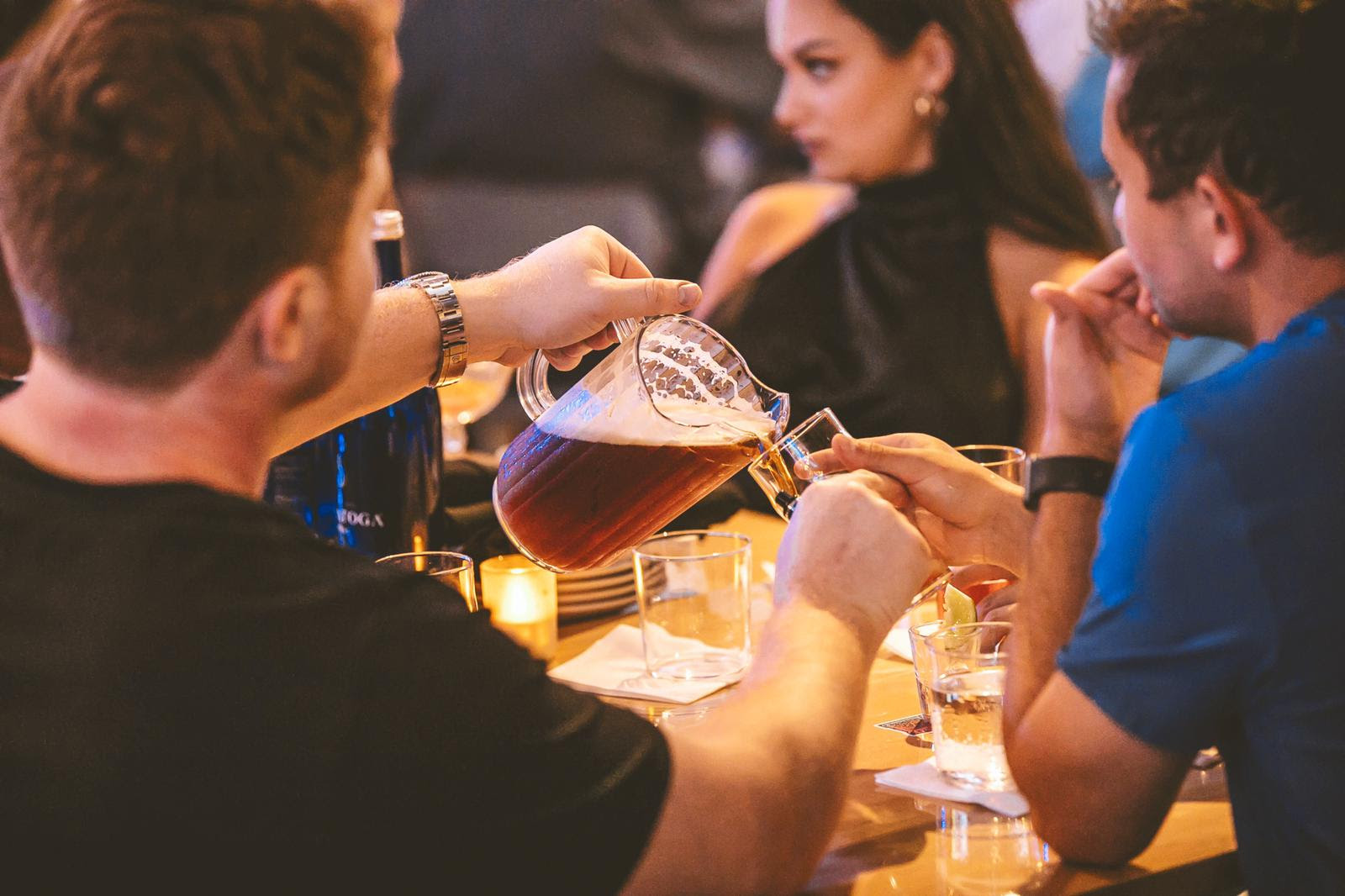 $20 Craft Beer Pitchers
Select hyper-local craft beer options.
Grails Wheel of Fortune
· Every guest gets an entry to take a spin on the wheel of fortune.
Each guest will receive 1 raffle ticket to win free drinks, food, credits, and more. Make an advanced reservation and receive 2 tickets per person!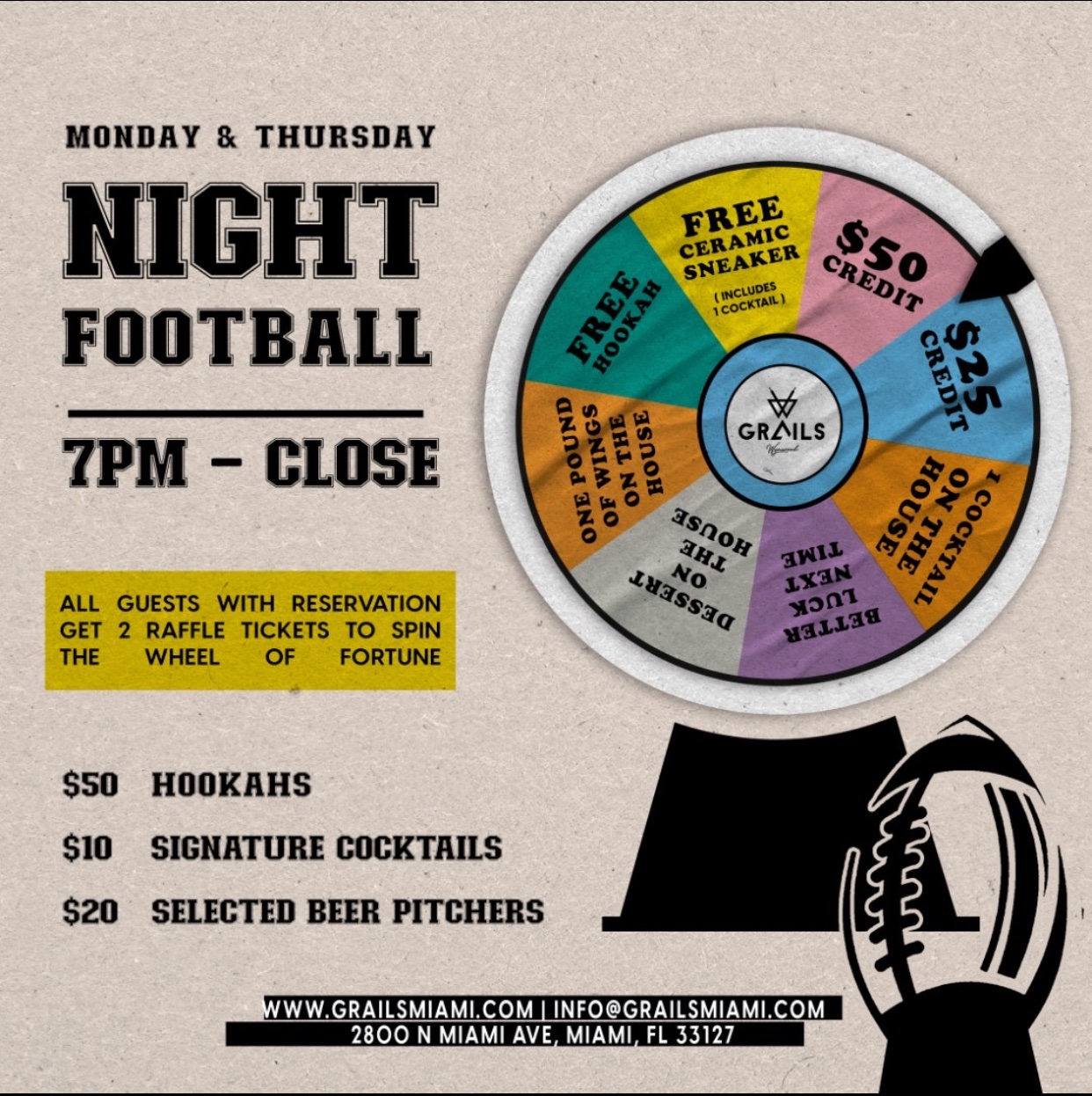 Address:
Grails, 2800 N Miami Ave, Miami, FL 33127 (
Get Directions
)
About Grails
From hyper-local beers and freshly crafted cocktails to upscale bar fare; Grails is not your traditional bar. Grails features 2 bars; one inside and one outside in our "Miami Vice" patio. Enjoy dining inside or outside with over 70 TVs located throughout all areas. Grails is perfect for families, parties, or a get together with your close friends. Kids can enjoy one of our many "yard games", including pop-a-shot basketball, giant connect four, jenga XL, and more. Our patio is also dog-friendly so bring your four-legged friend with you while you enjoy the game and put down some delicious food and drinks.
» The sneaker-themed indoor dining area
» The "Miami Vice" patio
» The Grails "Yard"
What people are saying...